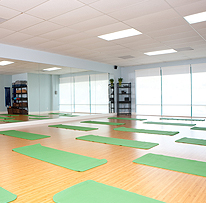 Beyond Motion: Fitness, Wellness and Personal Development In Naples, Florida
Beyond Motion is Southwest Florida's premier Performance Company, specializing in Pilates, athlete performance, customized fitness classes, and nutrition. Developed by Amy and Rick Lademann, the company stems from their passion and knowledge, for creating a well-rounded foundation to move beyond every day limits.

While their headquarters is located in Naples, Florida, the Beyond Motion certified Performance Consultants, team members, and professional associates are located throughout the US. These professionals are available to assist you in creating your ideal health, in person, on-line, and over the phone. They all share the Beyond Motion philosophy, and have been selected based on their knowledge, reputation for providing exceptional service, and uncompromising quality in areas that will enhance your life.

Whether you are brand new to fitness, or someone that enjoys staying healthy and feeling fit, a weekend warrior looking to enhance your game, or a seasoned athlete looking for a coach with a proven track record, Beyond Motion will be your favorite place.

As a client of Beyond Motion, you will be coached through work-out programs, proper nutrition, individualized supplementation, and goal setting techniques. By following the Beyond Motion program you will be able to reach your ideal weight, increase your vitality, boost your physical and mental well-being, and develop a greater passion for your true health, regardless of your age, or fitness background.

If you are a Fitness or Wellness Specialist looking to enhance your current business, or you are new to the wellness industry and looking for guidance, the Beyond Motion group is the only team to work with.

When partnering with Beyond Motion to enhance your overall Fitness or Wellness practice, you will be supported every step of the way to ensure that not only you, but your staff knows how to implement Beyond Motions lifestyle programs efficiently and effectively.